| | |
| --- | --- |
| | Click here to view the Latest Umsebenzi. [PDF] |

RED ALERT
Why the assassin must not be granted parole
Read more

| | |
| --- | --- |
| | Click here to view the Latest African Communist. [PDF] |
SACP gives Zuma the red card
Eric Naki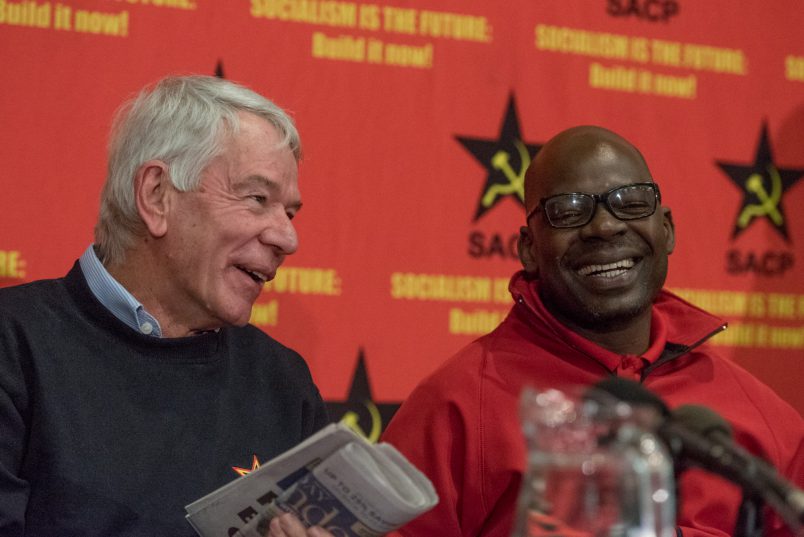 SACP First Deputy General Secretary and Second General Deputy Secretary Solly Mapaila share a laugh at the SACP Policy Conference at the Birchwood Hotel, Johannesburg on 10 July 2017. The annual policy conference began today and will run until Thursday this week. Picture: Yeshiel Panchia
Instead of Zuma, the congress will be addressed by his deputy, Cyril Ramaphosa.
The South African Communist Party (SACP) is now the second tripartite alliance partner to bar President Jacob Zuma from attending or addressing its gatherings.
SACP second general secretary Solly Mapaila said they had requested the ANC to send any of its leaders except Zuma as a guest speaker to its national congress which is under way in Boksburg, near Johannesburg.
So instead of Zuma, the congress will be addressed by his deputy, Cyril Ramaphosa. Mapaila said this was in line with the party's call for Zuma to step down as president of the ANC and the country.
Cosatu prevented the president from addressing its May Day rally in Bloemfontein last May. SACP first deputy general secretary Jeremy Cronin confirmed he would not stand for re-election.
He said he would remain in the party's top structures to concentrate on political education, "which is my passion".
He said it was important for him to give way for a younger person to become a party leader.
However, he suggested the party should also have old leaders to ensure continuity and stability.
Blade Nzimande is still available for re-election to the position of general secretary.
He said he would have preferred not to stand for re-election, but party members wanted him to stay on.
This was confirmed by senior party members. Mapaila defended Nzimande's continued availability for leadership and vowed never to contest him for the general secretary post.
He said they were aware of the perception that Nzimande was a dictator in the party, adding "that is not the case". But some delegates were of the view that Nzimande should let Mapaila take over.
"We value his contribution to the struggle and in building the party all these years, but he must give a chance to someone who will be able to grow the party and attract the youth," a delegation outside the conference centre said.
The SACP dismissed any rumours it would break away from the ANC or contest national elections separately.
Cronin said if the ANC imploded they would form a broad front with civil society to fight state capture and demagoguery.
To this end the SACP has had discussions with Save SA, the MK Veterans' Council and the ANC's 101 veterans.
Nzimande said the state capture saga was devastating the ANC, and the SACP was affected as an ally.
"We don't know whether the ANC will survive or crash," he added. - ericn@citizen.co.za
http://citizen.co.za/news/1565780/sacp-sends-giant-red-flag-zuma/
Print